BIRD REMOVAL
Birds are interesting creatures and have fun habits that give people joy and satisfaction. However, this is not always the case, as birds can also be destructive and annoying. For example, pigeons and seagulls deface buildings and lawns with their poop, woodpeckers destroy structures, and other bird species wreak unique havocs.
The bird population in urban areas is continually on the rise, and so is the danger they bring along. To a large extent, wild birds are carriers of disease pathogens that can infect humans and animals. This makes them a public health risk.
HOW TO REMOVE BIRD PESTS FROM YOUR HOME AND YARD
Bird pests are dangerous to you and your pet animals, and so you should get rid of them as soon as you discover an infestation. You can achieve both bird removal and exclusion by using the following methods:
USE OF BIRD TRAPS: One-way traps are the best for trapping birds. Search for entry holes and seal all except one, then set your trap at the hole entrance and keep checking and removing any trapped bird. The birds often stay in the attic, so you may have to climb up to the attic to get all the birds. Wildlife X Team New Hampshire has professionals with excellent skills to tackle bird removal, and with just a call, we can offer you the best services.
USE NATURAL PREDATORS: Using natural predators is a great method of ridding yourself of a bird pest infestation. To do this, you introduce a bird that the bird pest considers to be a natural enemy, and its presence in your home will dissuade bird pests from setting up camp in your space. This method is environmentally friendly and very humane, it does not involve chemical use, and after eviction, you can remove the predators. The predator does not kill the bird pests but scares them away from your yard.
Anti-perch spikes are a simple method that is humane and effective in bird removal from your building. You arrange the spikes on roofs, flat surfaces, ledges, and other areas where birds perch. The spikes prevent the birds from roosting on the rooftops and walls of your home and hence, prevent bird infestations.
USE OF PROTECTIVE NETS: You can also fix nets on all holes in your home like the vent and chimney. The nets will help to prevent a bird infestation and keep your home free of bird pests. Bird nets are available in varying sizes, and you can get the most appropriate one to use on your structures. You can also get the net in various colors that will match the color of your house. Fix these nets tightly, so that the birds bounce off when they perch on the roof.
Wildlife X Team New Hampshire offers professional services in bird removal and relocation, damage repair and exclusion, fumigation, and cleaning of the litter that the birds leave behind, including food debris, fecal matter, and urine. You can call us for professional help if you get stuck. We would love to hear from you.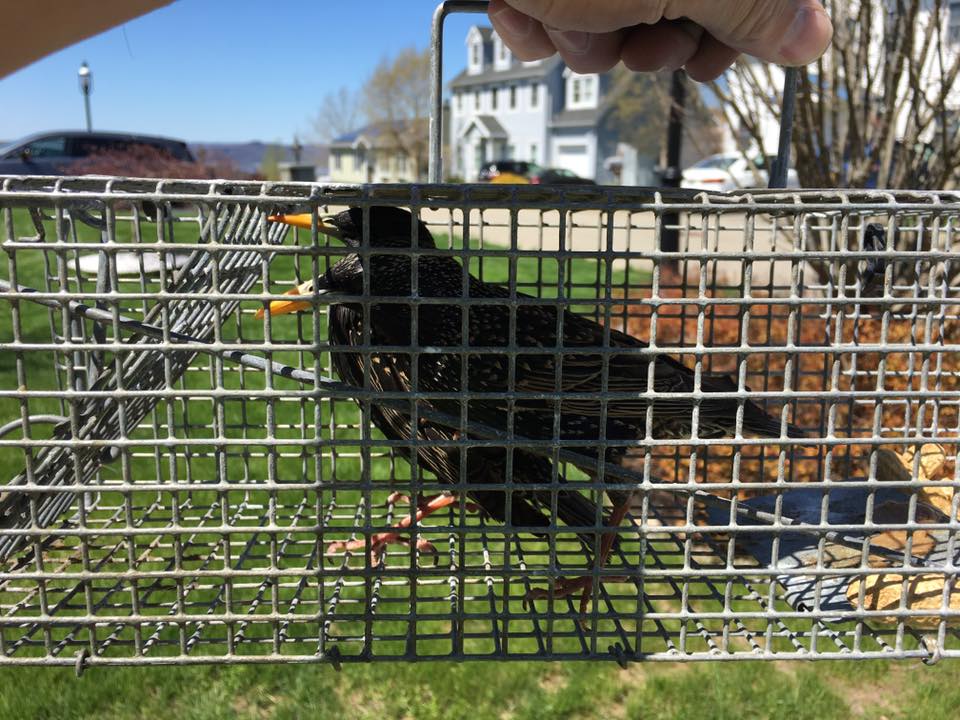 HOW TO REMOVE A BIRD NEST
There's nothing quite like taking an early morning walk and hearing birdsong. Having a bird nested right outside your window, however, is likely to grow old quickly. That's without considering the damage birds can do to your property. Nooks and crevices; vents, pipes, and chimneys; flowerpots and windowsills, you name it, birds will nest there. 
Yet, if you're thinking about just pulling the bird's nest down, think again.
It can be illegal to remove a bird's nest. According to the Migratory Bird Treaty Act of 1918, interfering with an active nest that belongs to a native species can give you a hefty fine. If, on the other hand, you're dealing with an invasive species such as the house sparrow, there are no legal restrictions.
If you are not sure about which species you're dealing with or where the law stands, contact your local authorities, such as Wildlife and Fisheries. They'll be able to provide you with all the necessary details.
Alternately, to avoid getting on the wrong side of the law, please contact us here at Wildlife X Team New Hampshire. We're familiar with all the legal and technical aspects of bird nest removal. Plus, we'll advise on preventing nesting birds in the first place. But first, check out the following advice.
CHECK THAT THE NEST IS INACTIVE

If you're confident the species you're dealing with is native, then you won't be able to do anything. Otherwise, if the nest has been abandoned, then you can proceed. Monitor the nest for at least a week, ensuring no bird returns, day or night.
If the nest is inhabited, don't worry. Most migratory birds will leave by the end of the season. Even other species do not inhabit nests for prolonged periods. Whilst most birds nest once a year, several species can build four to five nests a year. Meaning they'll be moving on in no time. Songbirds, for instance, usually stay around two to three weeks. Meanwhile, raptors can nest as long as eight to ten weeks.
LOOK FOR EGGS

Climb on a ladder and take a look. You'll want to avoid the parents being around. If you do find eggs but seemingly no adult birds, don't assume they've been abandoned. Eggs are viable for several weeks after being laid, and so, the parents may have simply vacated the nest for a short while. 
If the bird you're dealing with is non-native, you'll be able to remove the nest eggs. However, make sure not to break the eggs in the process – that's just more mess to clean up.
REMOVING THE NEST

After a nest has emptied – or you're dealing with a non-native species – you'll need to take the following steps:
Grab a flashlight and ladder. Obviously, the ladder needs to be tall enough to reach the nest.
Put on some protective gear: gloves, a mask, and goggles.
Depending on the location, you may need to pry the nest loose. Use a dowel rod and needle-nose pliers to pull the nest out. 
Otherwise, pull the nest out and place it into a black plastic bin liner.
Dispose of the nest. 
Clean away any debris and fix any damage.
PREVENT FURTHER NESTING

Lastly, you'll want to stop further nesting in the future. Common helpful tips include:
Installing a bird box; By doing so, you give birds in the area an alternative to nesting in your home. Ensure the bird box is big enough to accommodate the local species of bird.
Remove the bird feeder or move further away from your property: Birds often build nests near their food sources – it's like having a grocery store by your house. Therefore, moving the food source further away reduces nesting incentives. 
Place bird flight control spikes on your property: Commonly found in town centers, bird spikes prevent birds from standing or nesting. 
Apply bird repellent: Readily purchased online or in stores, bird repellent contains chemicals that dissuade birds from nesting.
If you want further advice or assistance, contact Wildlife X Team New Hampshire. We're always ready and happy to help. 
We service New Hampshire and the surrounding areas like:
Laconia, Meredith, Alton Bay, Alton, Ossipee, Center Harbor, Center Tuftonboro, Gilmanton, Gilmanton Iron Works, Holderness, Rumney, Lochmere, Loudon, Newfound Lake, Moultonborough, Gilford (Govt. Isl), Plymouth, Danbury, Hebron, Tilton, Winnisquam, Wolfeboro, Ashland, New Hampton, Bristol, Andover, Salisbury, Wolfeboro Falls, Belmont, Hill, Bridgewater, Grafton, New London, Sunapee, Wilmot, Holderness, Franklin, Squam Lake, Sanbornton, Lake Winnipesaukee, Sunapee Lake, and Silver Lake.